Welcome to BridgeTuition.co.uk. Please use the links on the left to navigate around the site. There are links to each of the courses available as well as information about Master Class events, and private tuition.
This page is brought to you by Robert Baker, Professional Bridge Tuition
♠♥♦♣
PROFESSIONAL BRIDGE TUITION

---
---
Book Reviews
As featured in Bridge Magazine! Click here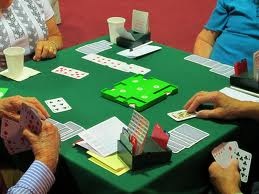 Home Tuition is available, please contact Robert for more information or to arrange sessions.
This is an ideal way for single players, partnerships or groups of four or more players to improve their understanding of any chosen area of the game and then to put into practice what they have learned. There is little doubt that this is the easiest and most efficient way to improve whilst enjoying a friendly game of bridge.
---
---
RESOURCE: Bidding - all you need to know
---
---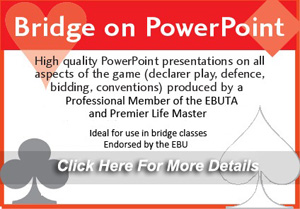 As featured in English Bridge Magazine. High quality PowerPoint presentations are available from Bridgetuition.co.uk, suitable for a wide range of players and abilities.
NEW FOR TEACHERS: Complete Masterclass Packages!
Please click here for further information, or contact us if you have any questions or would like more details.

---
Learning Programs
A series of Presentations have been produced with endorsement from the ENGLISH BRIDGE UNION. These are available for teachers to utilise in their courses, and for students as part of self taught learning. Please click for more information and a sample.



BRIDGE IN STOKE BISHOP

Friendly instruction and play sessions at the Stoke Bishop Village Hall. These take place on Thursday afternoons Please contact Robert (via the website )or Luba Balderstone on 0117 968 2461 for full details of dates and topics
For more information please visit:

http://www.stokebishop.org.uk/content/social-bridge-improvers


BRIDGE HOLIDAYS

n conjunction with firstforbridge.co.uk. Available both in the UK and abroad. Click image below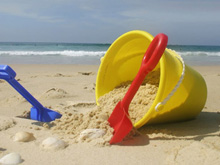 <!null =="===========" END ROW="=================">